Whether or not you were an Arsenal fan, we have to admit we loved watching them play as a neutral at their peak under Arsene Wenger. During the early & mid 2000s, friends would have a casual kick at the park or practice with each other: shooting, free kicks, crosses, dribbling and passing. We would tell each other to improve our passing and possession play 'like Arsenal'. Not all of us were Arsenal fans, but there was admiration for the way they played; the fluidity and attractiveness in their game was scintillating.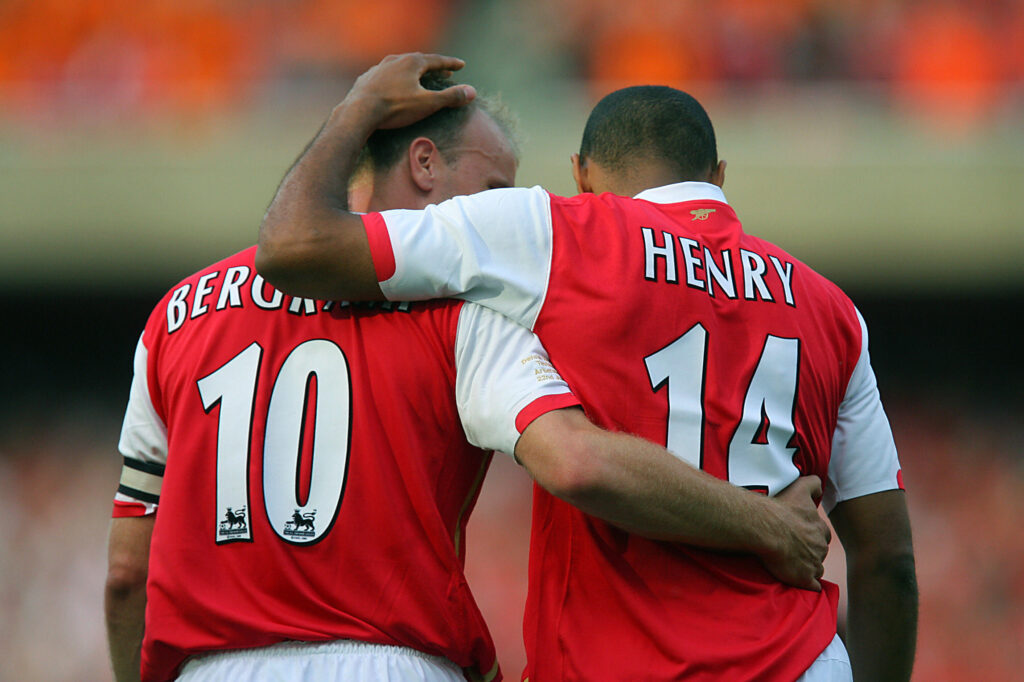 We've seen many strike partnership for the last 2-3 decades & all have our personal favorites. This article talks about one of many to grace the football pitch but very few come close, especially in the Premier League. As we were talking about the way Arsenal played under Wenger at their best, most of you would not need any guessing as to who we would be referring to in this write up- Yes! We are paying a tribute to the 'Invincible' duo of Dennis Bergkamp & Thierry Henry. This article would not have been possible without the help of & credits to Football Made Simple & TIFO Football.
Bergkamp & Henry formed a deadly duo upfront for the Gunners since 1999/2000 season. Both elevated each others' level of play and worked together magnificently, forming a very strong chemistry in the attack for Arsenal. Both are club legends for Arsenal, they were an integral part of Wenger's plans and formations to help change the landscape in the late 90s & early 2000s. Boy could they show some flashy footwork and score some memorable goals!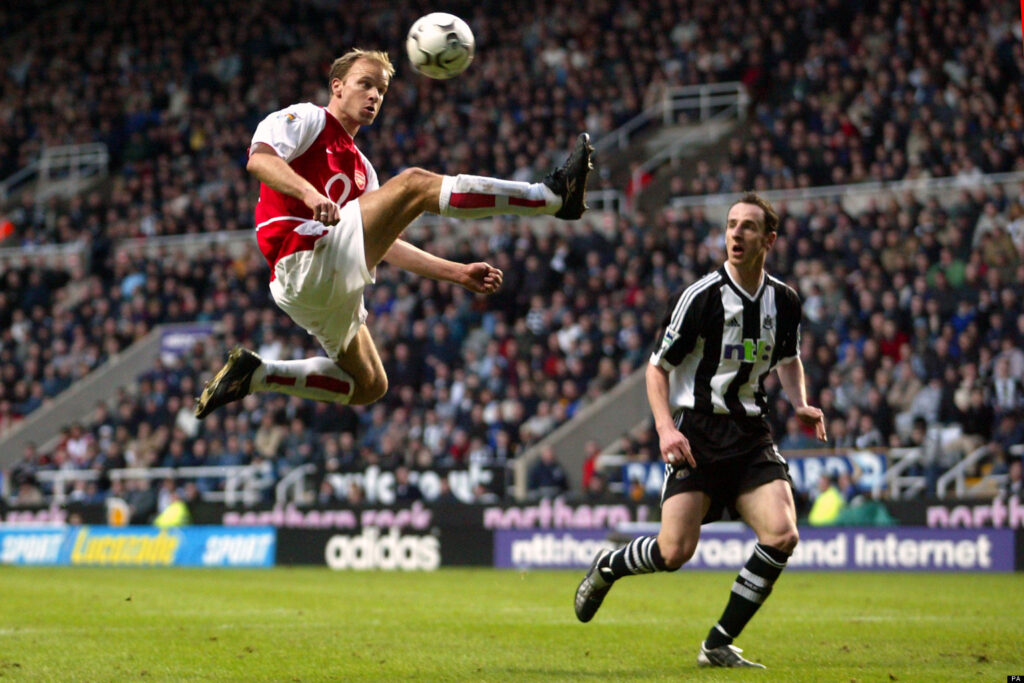 Bergkamp made a name for himself at his boyhood club, Ajax. Where he was the main goal scorer, in his 3 season at the club from 1990-1993, he had scored 20 plus goals in each of them. Bergkamp came 3rd and 2nd in the Ballon D'or in 92 & 93 respectively and now felt it was time to move on to a bigger challenge. The Dutchmen moved to the Serie A & signed for Inter Milan in 1993, however this was did not turn out the way he had intended. Meanwhile at Inter, the goals dried up mainly due to issues of adaptability and injuries, Bergkamp played 52 games for the Nerazzuri & scored only 11 goals. Inter Milan had stability issues with regards to managers as they had changed 3 in only 2 years while Bergkamp was at the club, which meant he could not settle in under one fixed style of play.
Arsenal took a gamble on the struggling Dutch forward and signed Bergkamp to North London for a fee of £ 7.5 million. He was paired alongside Ian Wright, another legend at the club but his role as an attacker then did not see what Bergkamp could offer in attack because he was missing his creative side. The best was yet to come for the fans to see when Bruce Rioch was replaced by Arsene Wenger, whose philosophy allowed Bergkamp to excel at Arsenal.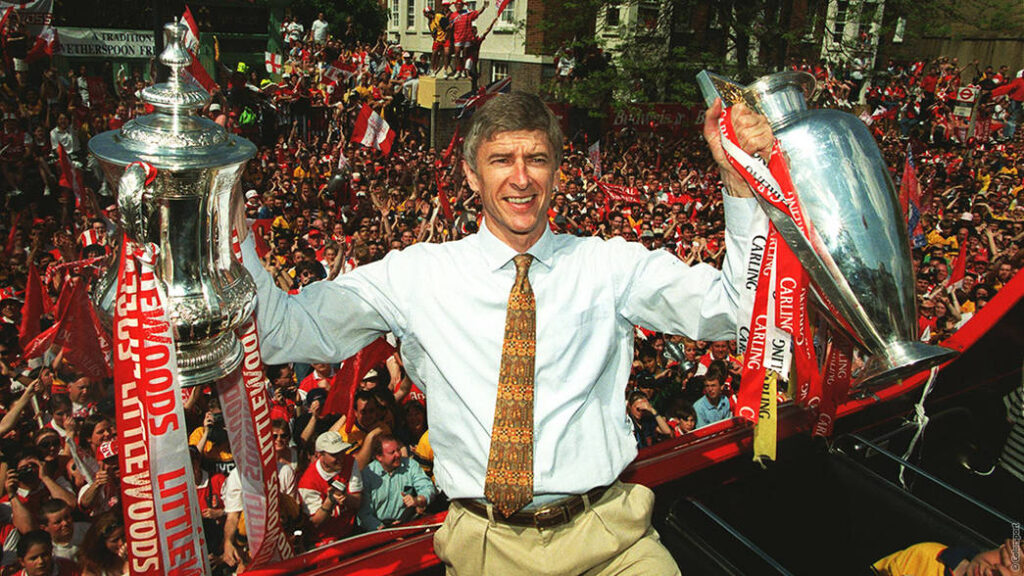 It was until Arsene Wenger's arrival in 1996, that Arsenal looked to challenge Manchester United for the title with Bergkamp being a regular and was responsible to drop back and be more of a creator for Wright & Nicolas Anelka.
Meanwhile, Thierry Henry was making a name for himself since 1994 in Ligue 1 while playing for AS Monaco. Henry was voted the French young player of the year and took part in France 98 World Cup, where he scored 3 goals in the tournament, securing a move to Juventus in Italy. However, like his future strike partner, Dennis Bergkamp, Henry was also struggling in Serie A, with focus on defence, Henry was found to be playing on the wings responsible to track back with less focus on providing his skills in attack.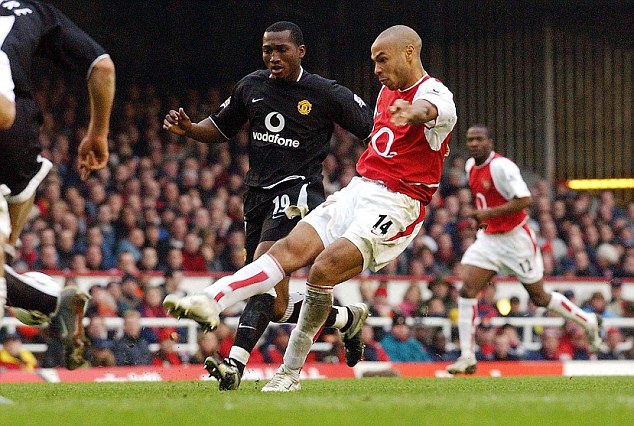 This time it was Wenger who a gamble and spent £11 million to land the young Frenchman, replacing the outgoing Anelka in 1999. There were many questions on whether how Wenger would use Henry in a 4-4-2 formation, popular in English football at the time; saw Henry return to his original position and played forward forming 'The Duo' alongside Bergkamp. Both were suitable to implement Wenger's possession football style of play. Bergkamp was a student of 'Total football' where he had the ability to drop deep, while Henry pushed high, Bergkamp's dropping deep allowed numerical advantage in midfield for Arsenal.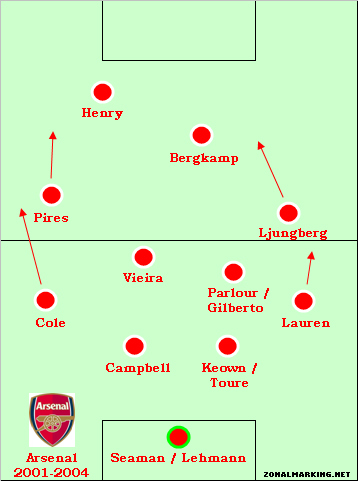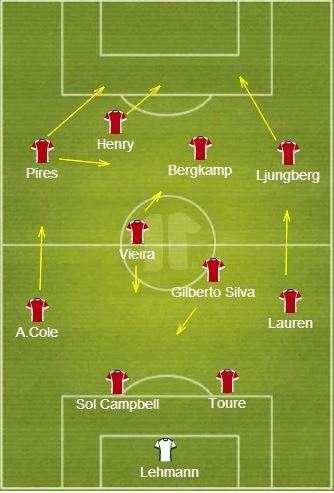 Bergkamp was a technically gifted individual, he could turn and flick in an instant creating space for a pass or spot the run of players entering the oppositions box. Henry wasn't a prolific goal scorer from the word 'go' he joined the Gunners, he would often drift wide taking the defender along with him to create space in the middle or make runs to receive a pass to score. This also allowed for wingers or full backs to feed the crosses to Bergkamp to score. Bergkamp was the orchestrator who could also play a key pass to either Pires or Ljunberg to score or feed an assist to Henry. When Henry moved to the left, Pires would join also join the two forming a triangle play between the 3, overloading the flank to create opportunities.
Henry boasts a record of assists any number 10 would be proud. Till date he has the record for most assists in a Premier League season (2002/03), where he scored 24 goals and provided 20 assists becoming the first player to record a tally of 20 plus goals and assists in a single season. Henry would use his pace and swift across the defence to create chances for Bergkamp in the box & vice versa, Bergkamp could move to the right with Henry entering the box and scoring. Both would create space for each other to score.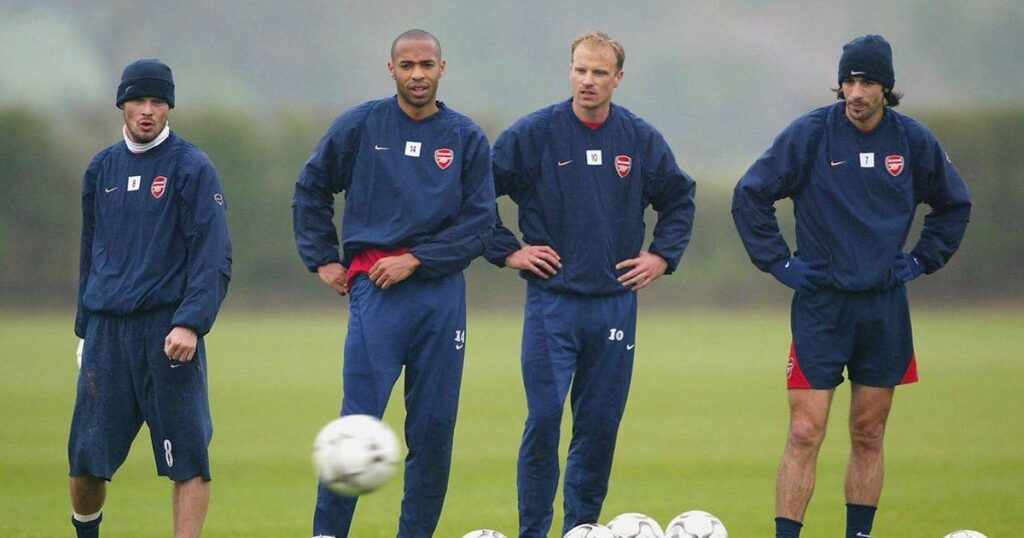 Bergkamp's game was never based on pace, therefor, he was mostly in the middle allowing Henry to drift in from the left when transitioning to attack from their own half. Bergkamp would drop in spaces from attack towards mid alongside Pires & Ljunberg to join the attack, giving it a change of shape to a 4-2-3-1. They were blessed with the understanding and intelligence to read the game and would also press and work their way around to find spaces between the opponent's defence.
Henry was credited for finishing the chances and even providing the final ball for the assists for goals. He would lead the attack upfront with his ability to drift wide left to dart in the box with his pace or make runs in the box for crosses or passes. Henry also had ability to shoot from distance. Like Bergkamp, Henry would also attract defensive markers allowing Pires & Ljunberg to invade the opposition box.
The best part was that both forwards complimented and had immense respect for each other. Henry described Bergkamp as a 'dream partner' & Bergkamp praised Henry as a player who just needed the ball in the right area to use his acceleration to storm past defenders. If you combine the individual abilities of each of the two you would get a combination of strength, pace, intelligence and composure, this produced moments of swift movement, creativity and fluidity in attack. The pair allowed Arsene Wenger to form a clear tactical identity in attack with focus on tempo, key passes, wide runs & drifting into the opposition's box. Their runs and movement with and without the ball was so good it was instinctively understood by other players, the Arsenal team mates had a strong chemistry between each other.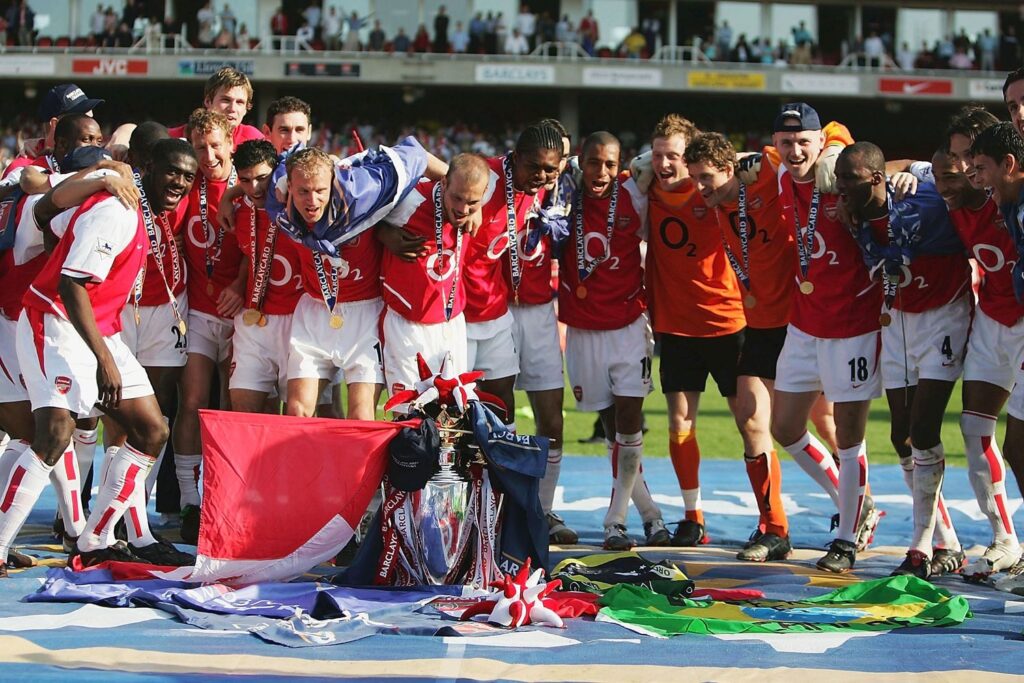 Credit goes to Wenger and the rest of the team, especially part of the invincible squad which had the excellence in their tactical set up, these players were definitely recruited and developed by the Professor to implement his philosophy.
The duo won 2 Premier League titles, 3 FA Cups & 2 community shield trophies together. Unfortunately success on the European stage eluded them as they finished runners up twice in the UEFA Cup (1999/2000) & UEFA Champions League (2005/2006). Sadly, time was not on their side as Bergkamp, 8 years older than Henry was slowing down, not only on pace but was unable to see through the 90 mins later on in his Career & eventually played his last game for the club in 2005/06 season which was also the last season Arsenal played at the iconic Highbury Stadium.

Well there are many individual and collective moments we can brag on and talk about, we are sure Arsenal fans would love for us to continue, it takes them back to the moment when they were on top of the world and formed one of the most exciting teams to watch for everyone. Words of praise are not enough to thank the 2 for their services to the club, their legacy will continue to live on in every football fan's heart and their story will be told and performances can be seen thanks to video clips on social media and other websites. We will just say a simple 'Thank you for the memories'!