Back in 2018, Jose Mourinho praised the duo of Chiellini & Bonucci that the two of them are capable enough of giving a lecture in Harvard over the art of defending. There was no doubt in the abilities of Chiellini & Bonnuci ever since they have taken the field for Azzuri & their clubs.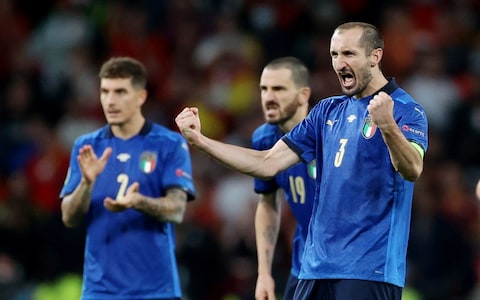 Both defended their areas like gladiators from England's attack- keeping Sterling & Kane quiet for the entire night at Wembley in the Euro 2020 final. Their combine age sums to 70 years between them (Chiellini 36 & Bonucci 34), almost at the end of their playing careers, Italy will have some tough ask replacing both after their retirement. Both of them will never give you a sight at the goal on their day, it's puzzling how the defensive duo have not won a Champions League title for Juventus in the past decade but they will be glad to end their international careers on a high by achieving their second only European crowd after 1968.
The pair was superb since the opening day of the tournament against Turkey, continuing their good form throughout the tournament. During the group stages, Cheillini was forced to make was for Acerbi due to a minor injury but that did not rattle Italy's defence. Italy has always been famous for producing world class defenders, most famously their 2006 World Cup win was credited to Fabio Cannavaro, who also won the Ballon Do'r in the same year for his contribution to Azzuri's success in the tournament in Germany that summer.
Italy are on a 35- match unbeaten run due to their energy, grit & determination. The team sets out a different vibe from the start of their glorious National Anthem, "Il Canto degli Italiani". Italy only conceded twice from open play before the final, they were up against an England side who had a strong defensive record- in fact better! However, it was experience over anything else that night which helped Italy dominate the game despite trailing earlier on. Ironically, it was Bonucci who equalized from the corner in the 67th minute.
If these two legends are not talked about enough then they have won over a lot of new fans who under estimated their performances because many unfortunately thought Serie A was no La Liga or Premier League but at the end, similar to 2006- you just can't beat the toughness of the Italians when their in the winning mood!