Brendan Rodgers has achieved praise wherever he has been to; he has coached different clubs from different countries of The United Kingdom: Wales (Swansea City), England (Liverpool & Leicester) & Scotland (Celtic). Currently, for the second season running at Leicester City, BR is looking for yet another top European spot finish, as the Foxes (Leicester City FC) are placed at 3rd from 24 games with 46 points behind Manchester United only on goal difference. Some folks at the British media wonder if Brendan Rodgers was adjudged incorrectly after Luis Suarez left Liverpool, as the Reds finished in the Europa League & got off the a poor start in the 2015/16 season before getting sacked and replaced by Jurgen Klopp & ironically, the year Leicester achieved the miracle by winning their first PL title under Claudio Ranieri!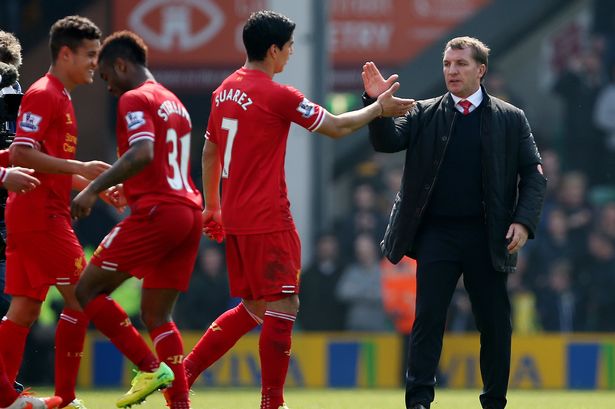 Is he under rated as a British Manager? We leave that for you to decide, as everyone rates a manager on different conditions: it could be trophies, tactics, results, etc. If we talk about British Football Managers since year 2000, only Sir Alex Ferguson has a better win percentage than BR, who has managed 232 games in the Premier League, winning 112, drawn 55 & lost 65, therefore he has a win percentage of almost 49%. BR is a legend at Swansea for guiding the South Coast- Welsh club to their first promotion in the Premier League in 2011, before surprisingly taking on the role at Liverpool in 2012, where he almost came whiskers to lifting the Premier League title. Liverpool played attacking and an exciting brand of football under Rodgers, scoring 101 goals in a season which saw him winning the manager of the season award but critics say it was Luis Suarez's genius and brilliance which made BR look good, because after the Uruguayan's departure, Liverpool struggled and made a mess in the transfer market! They signed Rickie Lambert & Mario Balotelli as replacements, Crazy right! Now here's where we don't really know whether they were preference of Rodgers himself or the Board decided through their analytics, still remains a debate.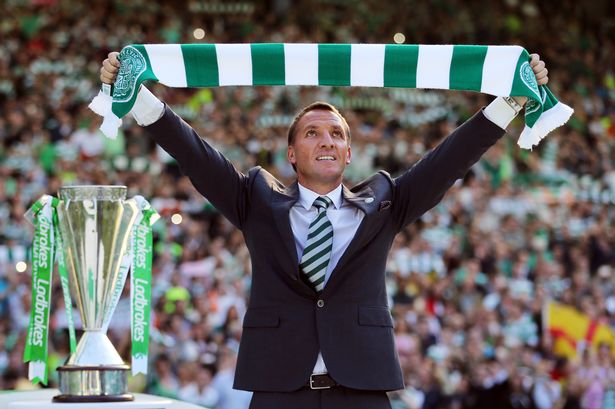 After his sacking, BR decided to move to Scotland and coach a Celtic side who had already been so dominant in the Scottish League, with no real sense of competition, as Rangers were relegated to the second division due to their bankruptcy and financial issues. However, he became the first manager to win back-to-back trebles in Scottish football, went on an unbeaten 69-game run (the longest in British football history). Rodgers won 7 trophies and was on course to probably win another for the 3rd season running to make it a hat-trick of trebles but to everyone's surprise, he opted for the vacant role at Leicester City in February 2019, marking a return to the Premier League.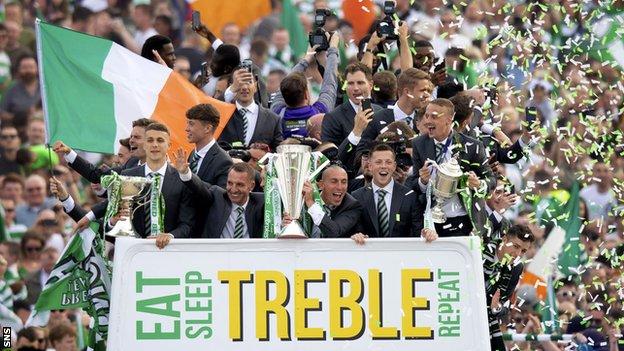 To some in Scotland, this was seen as a sign of disrespect of not finishing the season with his team Celtic, others in England questioned his appointment, as to whether Leicester believed Rodgers was the man who can do miracles with the Foxes as he did with Liverpool in 2013/14 season. As you can see from his first full season, Leicester qualified for the Europa League in the Covid hit season, although critics feel he should have been able to secure top 4 spot but Leicester had been dismal since the restart last season (due to global pandemic). Currently we see Leicester off to a similar start, now the question is can Rodgers finish the season off on a high because of his 'slip-up' in the title race with Liverpool, some feel he is unable to lead his side to wins when the pressure is on and expectations are high.
True, there may not be any expectations from Leicester City when Rodgers took over, the Foxes finished at 9th in the 2018/19 season. The max you would expect would be a Europa League spot at 6th but with the new 'Top 6' in the league, that seemed a dream for other clubs. BR continues to surprise us yet again and has done a great job with young players and a veteran Jamie Vardy & Kasper Schmeichel, Mark Albrighton & Christian Fusch, one of the few remaning members from the title winning squad in 15/16.
Rodgers understands the game very well, the Northern Irish gaffer was an assistant at Chelsea under Mourinho, so he's definitely learned a lot after staying close with one of the best in the game. He's passionate about the game, the players' respond to him positively, they regarding him as a leading figure at the club, similar to how Guardiola or Klopp are perceived at their respective club. Rodgers would have been happy to hear his name linked to Arsenal after they sacked Unai Emery, to be honest, we thought then, he was already doing so well with Leicester and should remain there. Leicester are a good team to watch for the neutrals, they play an exciting brand of football; they build from the back and press in the middle, looking for counters, especially with those through balls from the mid to Jamie Vardy- the guy will definitely hurt your defence if you give him space to run at.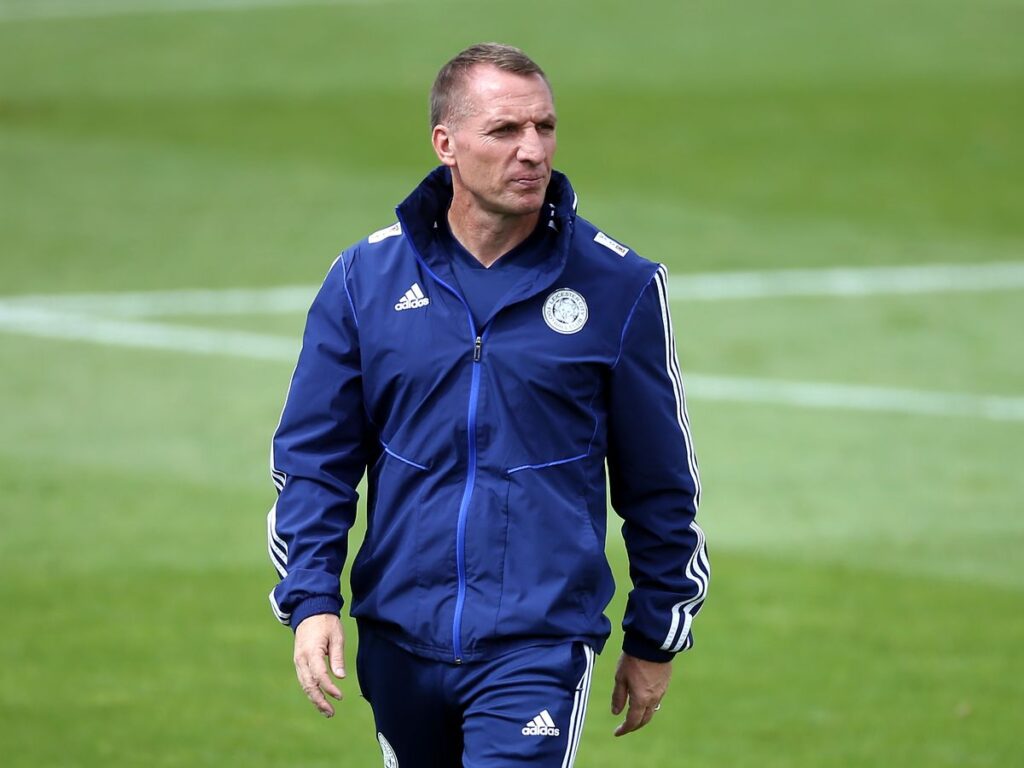 Perhaps Rodgers chose Leicester because the project excited him, he must have thought Scottish football lacked challenge and he had won everything there was domestically. For Celtic to compete against likes of Barcelona, PSG, & Bayern in Champions League would have been very tough for Rodgers as well. Leicester City provides good scouts- look at the young talent they have recruited over the past 2 seasons with likes of Barnes, Maddison, Tielmans, Ndidi, Fofana, Castagne, Justin, Ricardo Perriera, & Soyuncu. There is opportunity to grow and improve at Leicester: young talented squad, supportive and rich Thai owners, newly build training facility, & no pressure of delivering a PL title (for now). Rodgers is displaying continuity and consistency, last season was no fluke, Leicester are ambitious again, it seems Rodgers and the players feel they want to become a consistent feature in Europe's elite competition i.e. Champions League.
None of this has been easy, Rodgers and his team has faced injuries to key players last season and this one as well. We believe Leicester do lack quality on the bench to come and replace their regulars, especially the likes to Vardy. Rodgers should be looking to find a replacement soon enough because the striker is not getting any younger, currently aged 33. Leicester may struggle to keep hold of their top players, with Ben Chilwell joining Chelsea in the summer in a £50m move. Harvey Barnes, Wilfred Ndidi, Youri Tielmans & James Maddison are linked with interest from other clubs in the summer.
Tactics: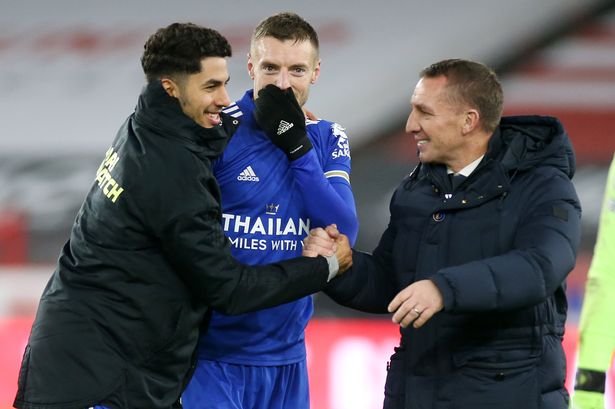 We will not delve into details for now but we cannot talk about Rodgers and Leicester without mentioning the way his team plays and sets up. When Leicester beat Manchester City 5-2 at The Etihad, Guardiola accused Rodgers' side for "not wanting to play". Which is understandable as Leicester were missing a few key players, any side missing their regulars may have to adopt a defensive approach but as long as Rodgers got a surprise win, nor he or the fans would be too bothered.
Rodgers has learned from his past, especially last season, missing players like Perriera & Ndidi, he was unable to carry out his usual game plan, therefore he had to develop a more pragmatic approach. Leicester may not keep possession against attacking sides when they have played City, Arsenal or Leeds but that works for them perfectly, they won these games in the first half of the 20/21 season. Forming a compact defensive unit at the back allows Leicester to break into counters with Barnes & Vardy being a constant threat for the opponent defenders. Despite less possession, Leicester has managed more than 10 shots in the games they have won, as witnessed in 13 games in the first half of the season where they managed less than 50% possession.
Future: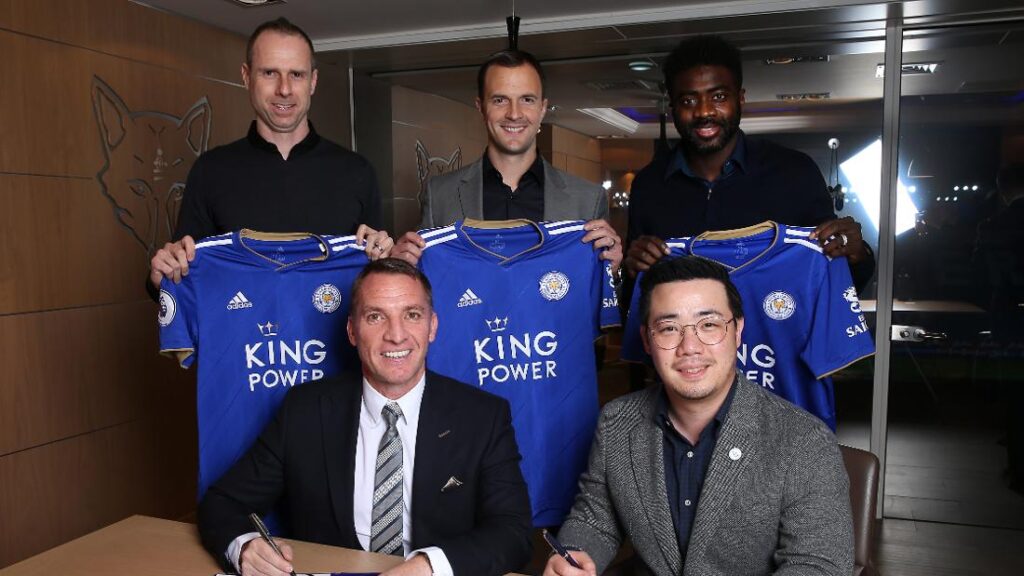 Rodgers has been mocked in the media for some his comments since his time at Liverpool. Yes, he termed Joe Allen as the 'Welsh Xavi', he did right? Nevertheless, Leicester's recruitment and his coaching has been on spot for the Foxes as of late. It is difficult to find flaws in the way he has achieved results, no manager is perfect, everyone has their flaws, it is their success that overshadows their shortcomings. Leicester also managed to finish at the top of their Europa League group, Rodgers may not receive much praise for his time at Celtic but it feels the experience has instilled confidence within him and after getting a feel of winning domestic titles, he has grown as an individual and a manager. Despite injuries in a hectic season with fixture congestions, Rodgers has learned to adapt and be flexible to get the job done. Leicester are contenders once again this season for a top 4 finish, Rodgers will ensure they don't falter at the end like they did last season. It is now a question whether how long will he stay with the Foxes before securing a move to a club with may be more financial muscle and bigger ambitions within the Premier League. Imagine Rodgers moving abroad to Spain or Italy for a new challenge! Wonder how that would be, we'll leave it to you to think about that.