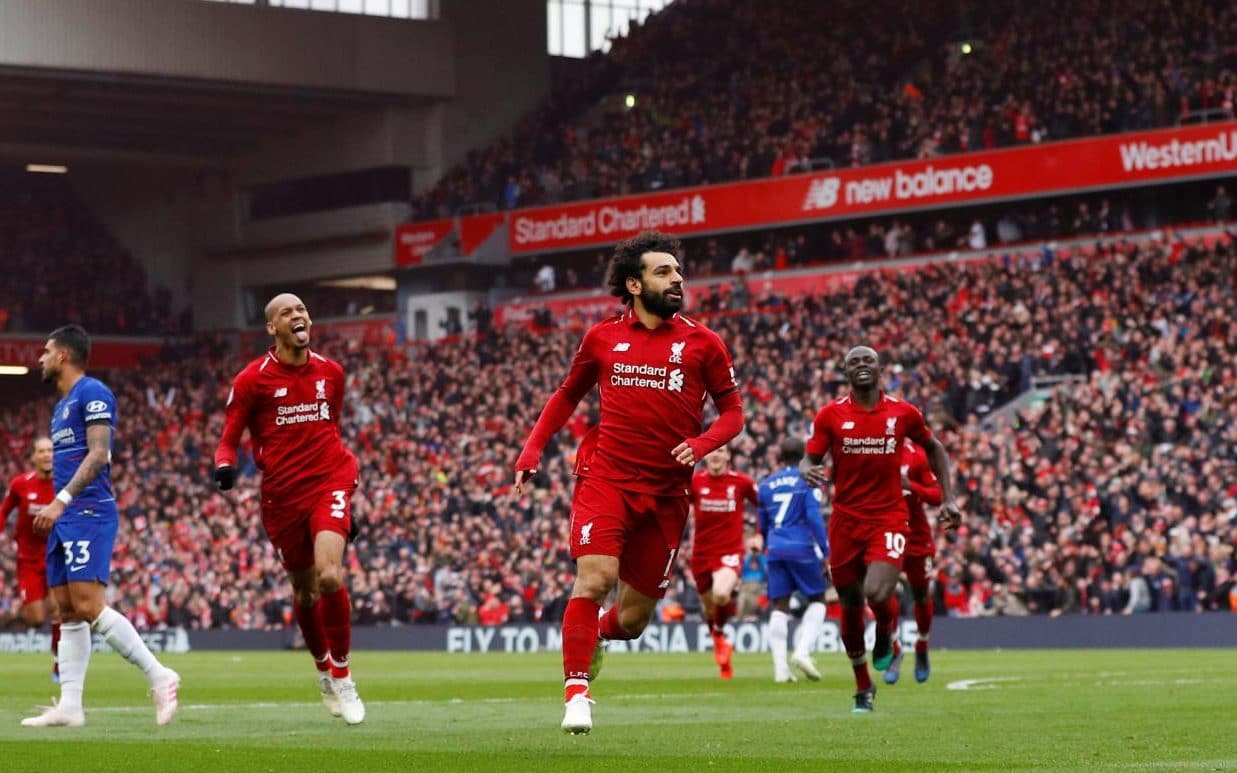 A rocket from Liverpool's Egyptian Forward, Mohammad Salah blasted its way into the top corner, beating Chelsea goalkeeper, Kepa Arrizabalaga, keeps Liverpool two points ahead of title rivals Manchester City, breaking the hearts of City & Chelsea fans alike.
The Sunday evening kick-off saw two English football heavyweights battle it out for different purposes in a 'must win' clash for both. However, both clubs have different season aspirations, as Liverpool look to win all their remaining 5-6 matches and hope Man City drop points, which would allow them an upper-hand in the search for their first league title in more than 28 years.
The roaring crowd at Anfield couldn't expect less than a win from the Reds and it was to be so, their wishes came true with Senegalese winger, Sadio Mane & Egyptian Forward, Mohammad Salah delighted the crowd by scoring their 17th and 19th goal of the season on 51st and 53rd minute respectively sending the buzz around the ground, to ensure the fans this was going to be their year. In contrast, Chelsea were looking to carry on their 3 game unbeaten short run in the league, as they look to retain their 4th spot, to get a chance to qualify for the Champions League next season.
Playing in his usual right side of the field, Salah received a cross from defender, Virgil Van Dijk, going past Chelsea defender, Emerson, unleashing an angled drive, going past Arrizabalaga's goal, into the top corner. An unforgettable moment for Manager, Jurgen Klopp, who along with the crowd went into joyous disbelief.
Salah, playing against his former team, did not celebrate the goal previously when he scored in a one-all draw in 2017, but did so this time in a unique way in front of the 'KOP End', by lifting his left leg and put his hands together like a yoga style prayer. Then fans loved the prayers and cheered the team on.
This was a perfect response to silence the critics, who said Salah was a 'one season wonder' and to those who doubted his recent form, where he struggled to score in past few games as regularly as he did last season.
Furthermore, Thursday night saw a disgusting gesture by a few Chelsea supporters in Prague, where Chelsea were playing away to Slavia Prague in a Europa League game, where the fans sang a song at a pub stating, "Salah is a bomber", going viral over social media. What a response it proved to be from the Egyptian, who let his feet do the talking on the pitch, with indeed a rocket in the top corner of the net, blasting away any hopes for a Chelsea comeback earlier in the 2nd half. This was Chelsea's first loss at Anfield, after an 8-game unbeaten run at the venue, but Liverpool proved to be worthy winners.
It was also a personal moment to remember for Reds boss, Jurgen Klopp who celebrated his 200th game in charge of the club with a victory, moving 2 points ahead of their title rivals, Man City, who also won their earlier game away to Crystal Palace.
Liverpool fans will be hoping for more moments of brilliance from the Egyptian, as they continue to negotiate with the demanding challenge of maintaining their winning run, by seeing out one of their last noticeable remaining difficult fixture.