It's not hard to talk about players who had to leave their country of birth to represent elsewhere, not of all them are successful, who go on to become big household names. However, there are some, who become a person who represents the national icon, becomes an idol for the locals & has a story to tell against the struggles and battles they won to make it where they are now.
There are many we can talk about when it comes to European football but in this article, I want to talk about a plyer who I heard about & saw in the mid-2000s, a European, from Bosnia (then Yugoslavia), representing Singapore, from the ASEAN region. If you are from the SEA region, I am sure you get who I am referring too, but even if you don't know, no problem, this article is to appreciate a fighter, Aleksandar Duric.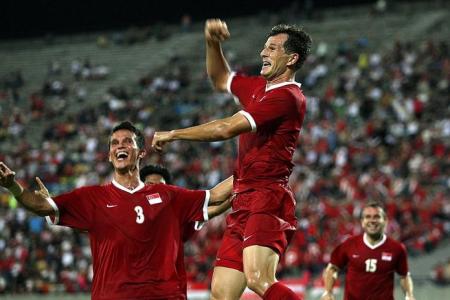 He was a prolific striker with a strong physical presence, an individual who maintained a professional approach when it came to fitness with discipline lifestyle. His careers spanned over 3 decades thanks to his strong dedication and high level of commitment to stay fit.  For this article we take some help from pieces of information from Duric's own autobiography, co-written with Glenn Ray in 2016 titled: 'Beyond Borders' & an article by Sivan John on Football Paradise.
Like any young kid growing up in Yugoslavia, sport was an escape. There are so many examples we can talk about, Sports, mainly football, has provided an escape route to so many big names. Whether you talk about Edin Dzeko, Miralem Pjanjic, Luka Modric, Nemanja Vidic & all players who have grown up in the Balkans in pre-partition times, will tell you it was no less than hell. Then of course, Duric, born in the 70s, would be no exception either.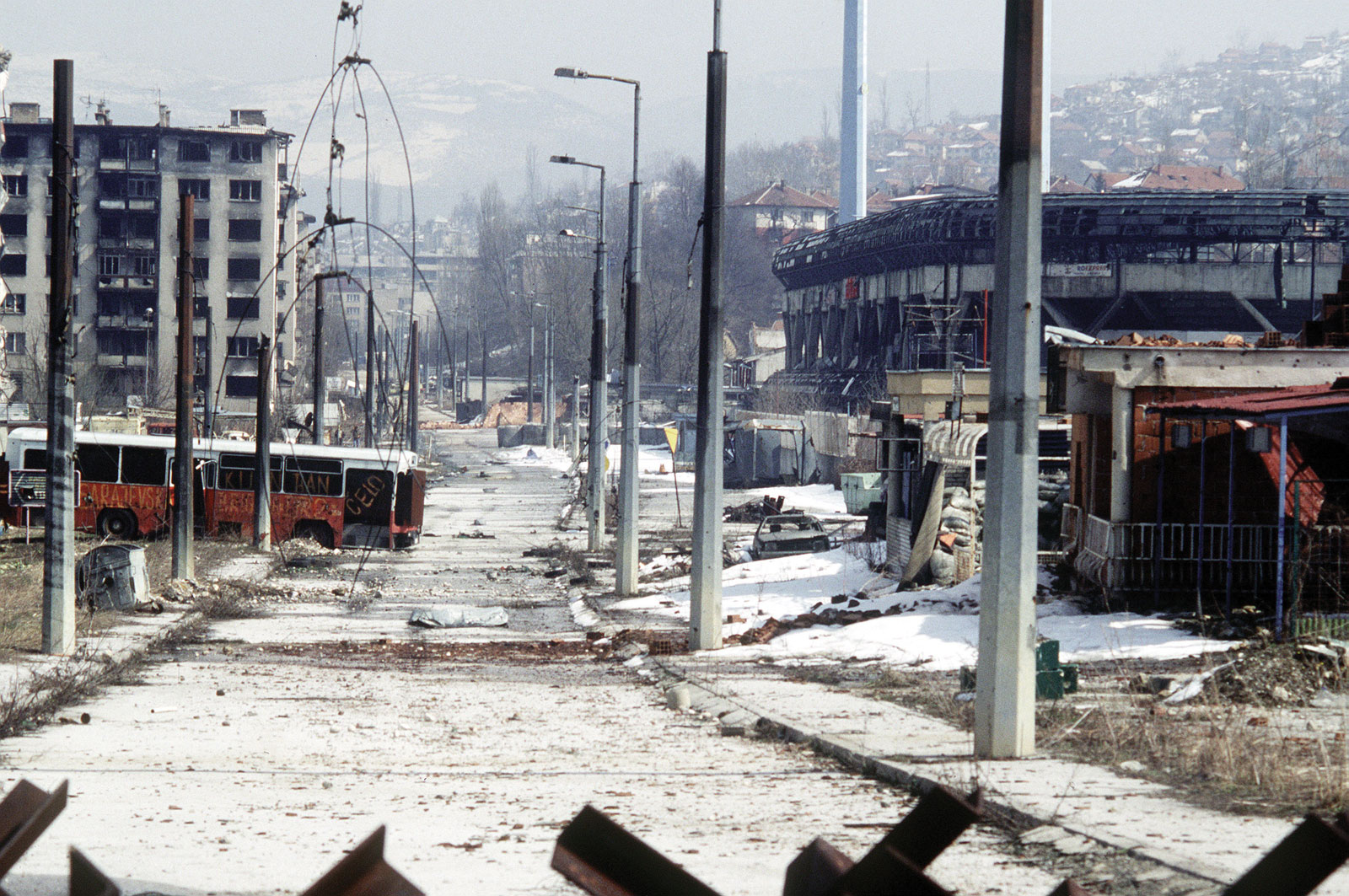 What makes him different is that despite love for football, he was active in other sporting activities as well. At just age of 15, Duric was already a kayaking champion & ranked 8th in the world at just 17 years old. He also represented Bosnia & Herzegovina in the 1992 summer Olympics in the C- 1500m canoeing event.
As easy as it may sound, the journey was definitely a remarkable one, when the war broke out in the Balkans, on the instruction of his father, Duric left Bosnia and travelled to Serbia with very little money. Unfortunately, his mother fell victim to a bomb attack from Bosnian rebels as Duric and his family were Serbians, seen as an opposition by them.
Duric played for a 2nd division football club in Serbia and later on went to Sweden to train with AIK but his refugee status was rejected, which meant he was not stranded in Hungary without a recognized passport due to having an unrecognized passport. Thanks to support from a local family, Duric successfully cleared a trial and represented Szeged FC, a 2nd division club in the country.
Surprisingly, after the newly formed Bosnia & Herzegovina, from the breakup of the Yugoslavian Republic, Duric was invited to represent the country in the 92 Olympics in Barcelona. Again, this journey was not an easy one, the Bosnian Olympic committee could not even afford to pay for his travel back to the country and join the team. Duric took the hard way and trekked from border to border, hitchhike rides in trucks and managed to reach Barcelona for the event.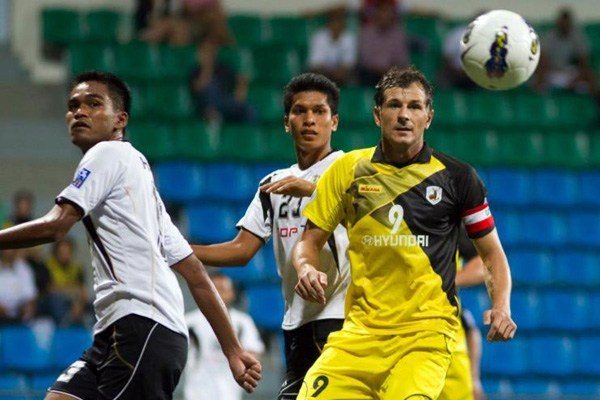 After the event, Duric returned back to Hungary and continued playing with Szeged in the 2nd tier. Frank Arok, a retired Serbian player & former Australia coach managed to help Duric secure a trial for South Melbourne Hellas, in the National Soccer League, afterwards he played for other Australian clubs as well before moving to China in 1997 to play for Locomotive Shanshan.
A return back to Australia saw his club, West Adelaide go bankrupt and now he received options to move to Hong Kong & Singapore, for which Duric chose the latter option. The Bosnian Serb was now playing in the S-League for Tanjong Pagar United as a winger, later converted to a striker by his coach due to his 6'4 physical presence. The club finished 3rd with Durich scoring 11 goals from 16 appearances.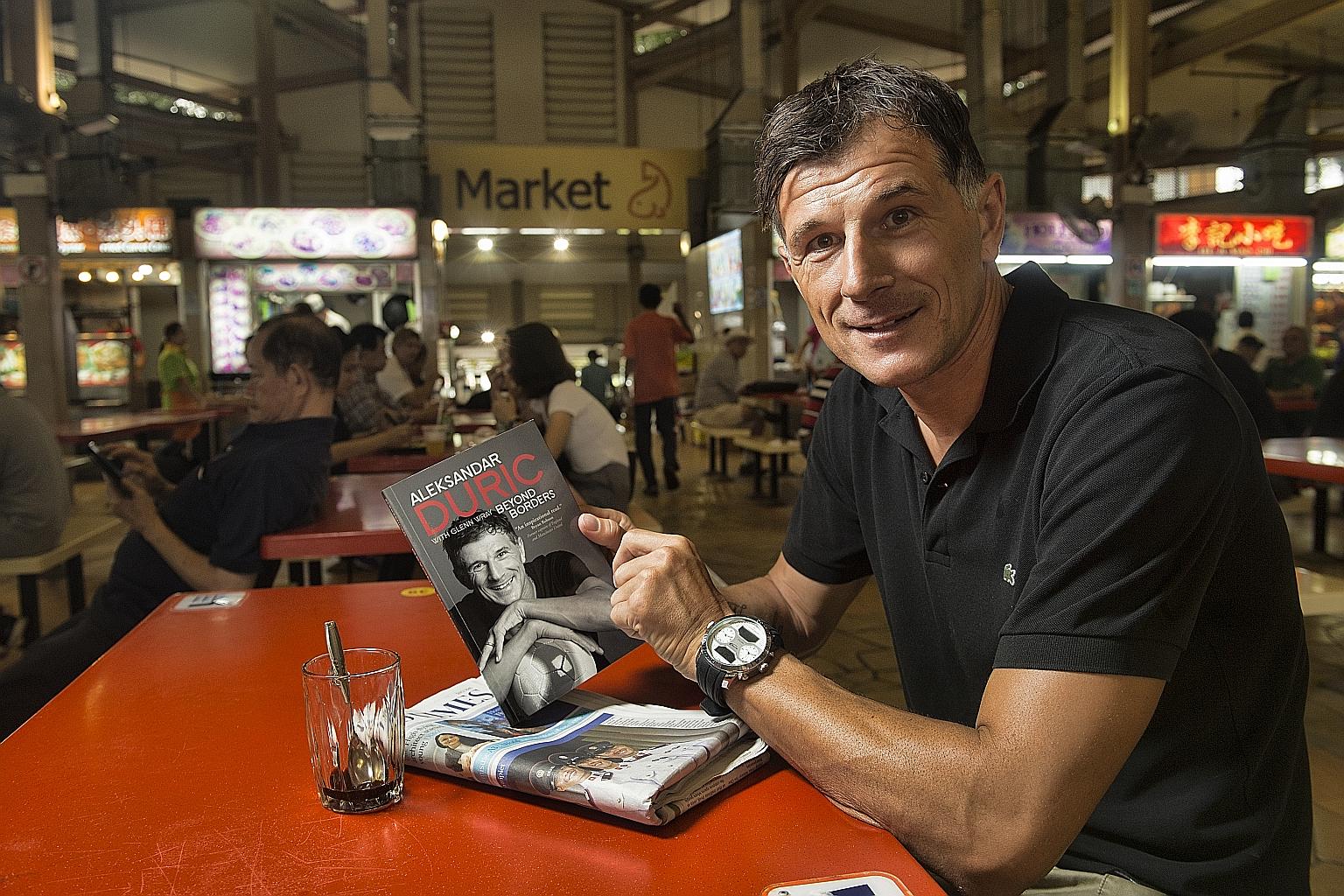 From his autobiography, Duric talks about how Singapore was well developed as a country but in regards of football, it was totally the opposite. The country was made from a swamp into becoming one of the best in the world but the football development was still in slump. The professional league was only formed 3 years prior to his arrival, the salaries weren't the most attractive either but he needed means of living, especially in a new country. This place was still different to East Europe, it promised progressed with work to do and efforts to put in.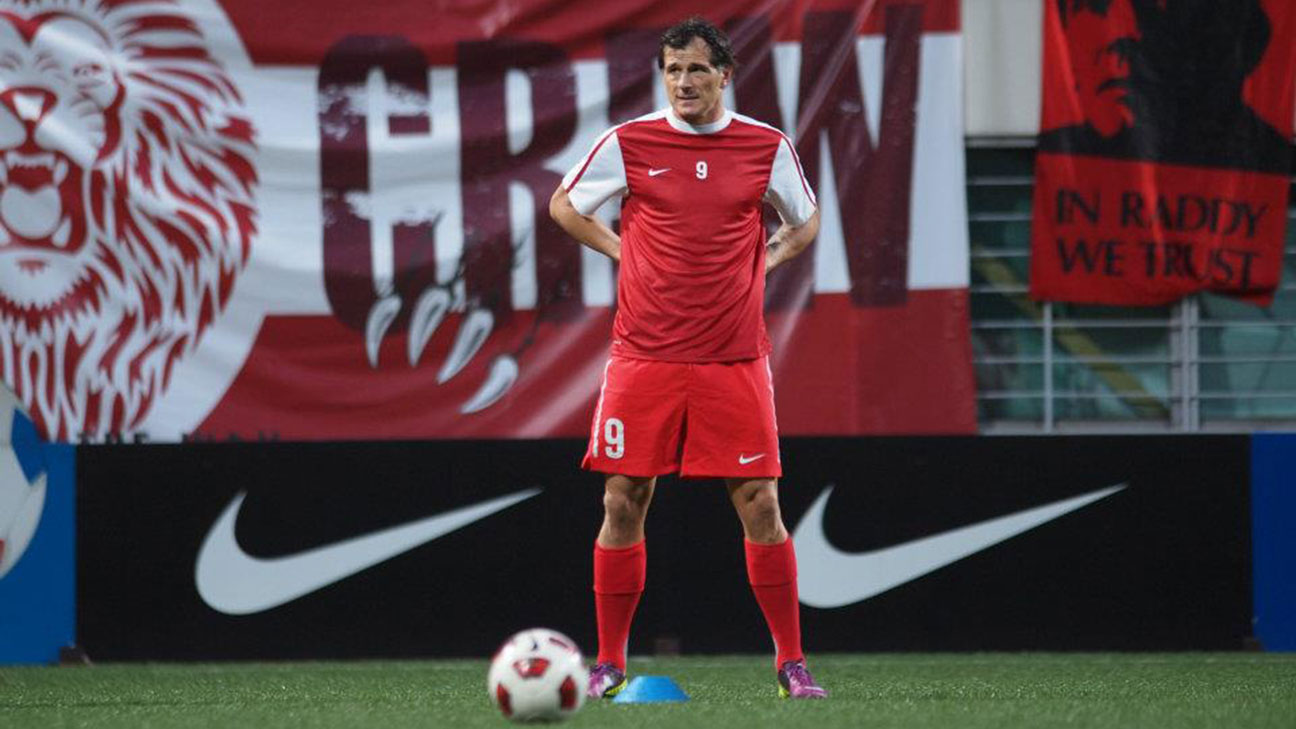 His first season set the tone, he showed promised and repaid his faith in what the coaches saw in him. Duric later managed to play for clubs such as Home United, Geylang, Singapore Armed Forces FC & Tampines Rovers, wherever the big lad went, goals followed! In terms of achievement at club football, Duric managed to win 7 league titles, 3 cups & 4 golden boot awards in the S-League, also winning the player of the year on 3 occasion. And the most interesting this is, Duric was already 29 in his first year in the S-League.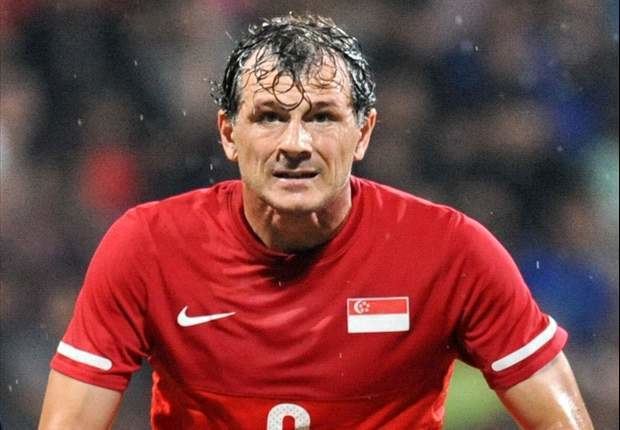 It was only a matter of time for him to get a call for the national team, his new found home. Again, it was not easy, but the time he was in consideration for a call up to represent Singapore, he was already approaching his late 30s! He received his Singaporean passport in September 2007 & was approached for a call by then coach Radojko Avramovic for the national team in November 2007. From what you have read so far, I am sure you must be thinking 'This guy never gives up!' yes, indeed & why should he.
Duric always liked to defy the odds and test himself to the limit. He eventually made his first National Team debut at age of 37 against Tajikistan in a 2010 World Cup Qualifying game and made a sudden impact, winning the game 2-0, followed by a 1-1 draw, which meant Singapore qualified for the 3rd round for the first time, drawn against the likes of Lebanon, Saudi Arabia & Uzbekistan. Duric translated his form at club level for the national team as well, scoring against Lebanon & Uzbekistan, unfortunately it wasn't enough as Singapore finished 3rd in their group.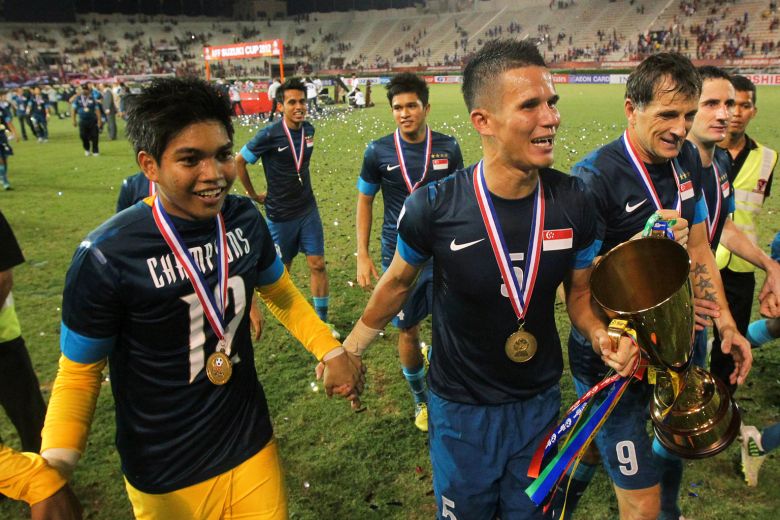 Just when Singapore were extending their arms to welcome foreign talent in the National Team, Duric continued to make history by becoming the first Foreign-born player to captain Singapore in a match against Bahrain in May 2008. Duric spent 7 years representing the team which he calls his new home now, he made 53 appearances, scoring 24 times. In 2012, Singapore defeated Thailand to be crowned winners of the ASEAN Cup. At club level, Duric played around 600 games, with a total tally of over 360 goals.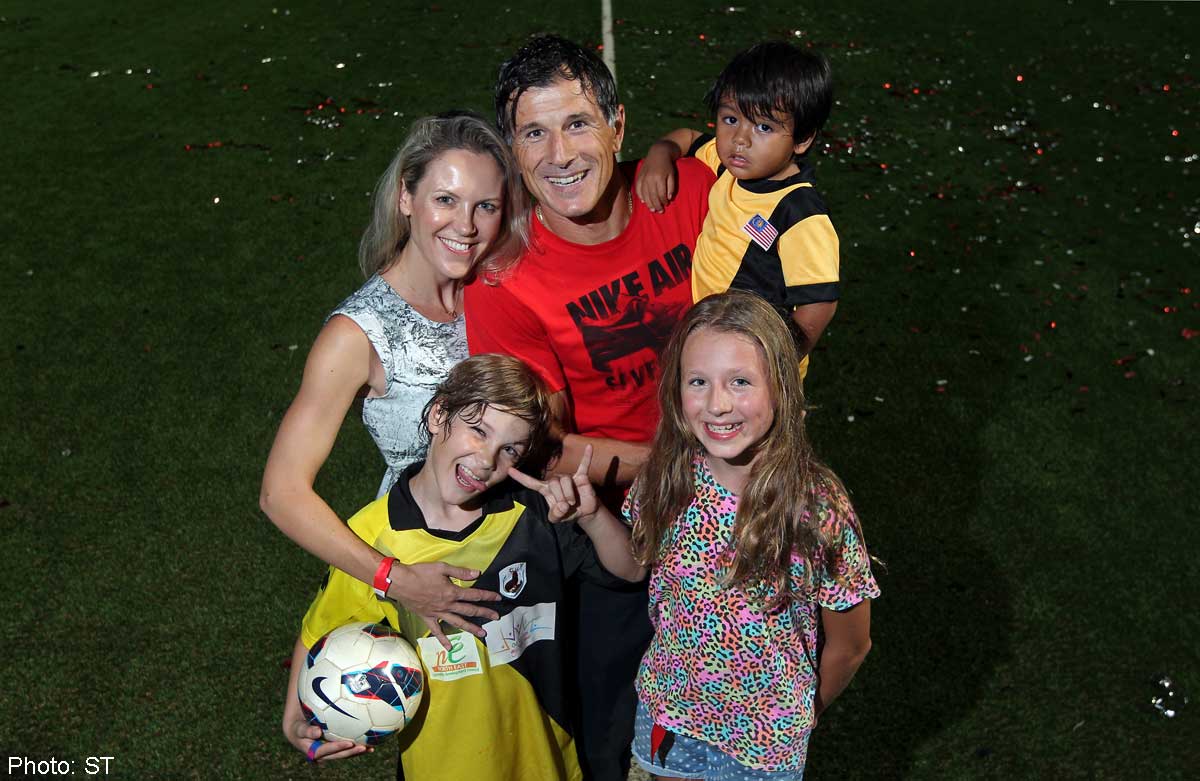 Duric retired from the sport in 2014, becoming an ambassador the not only Singapore but the entire ASEAN Region. Some even consider him the best talent ASEAN region despite his age but he can be compared to Cristiano Ronaldo in terms of not compromising for his physique and fitness. It's quite famous that Duric was a family man, who spent most of his time with his wife and kids, avoiding smoking, drinking, late night partying & all the unhealthy food.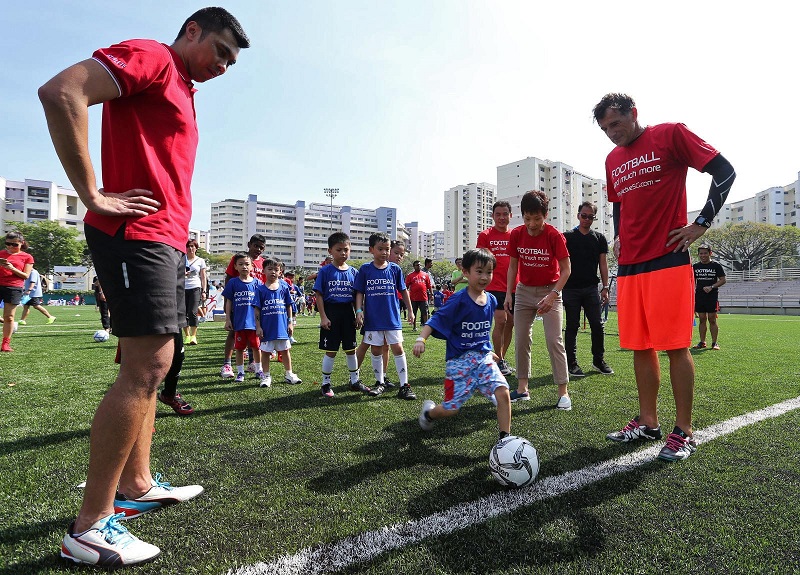 Duric is more than just an athlete in Singapore. He has partnered with various organizations for charity work and wants to give something back to his adopted country. He might not be a regular household name for many fans outside the region, but he has done enough to get recognition and our appreciation to write an article on him.
For us, he is not just a football player or a national hero, he is a definition of never giving up & always fight for your dreams. They say life is about struggle, try to overcome obstacles, if you ever feel you're not up for the challenge, try reading about Aleksandar Duric.